Pink Nori
3606 30th Ave, Astoria, NY 11103
Order now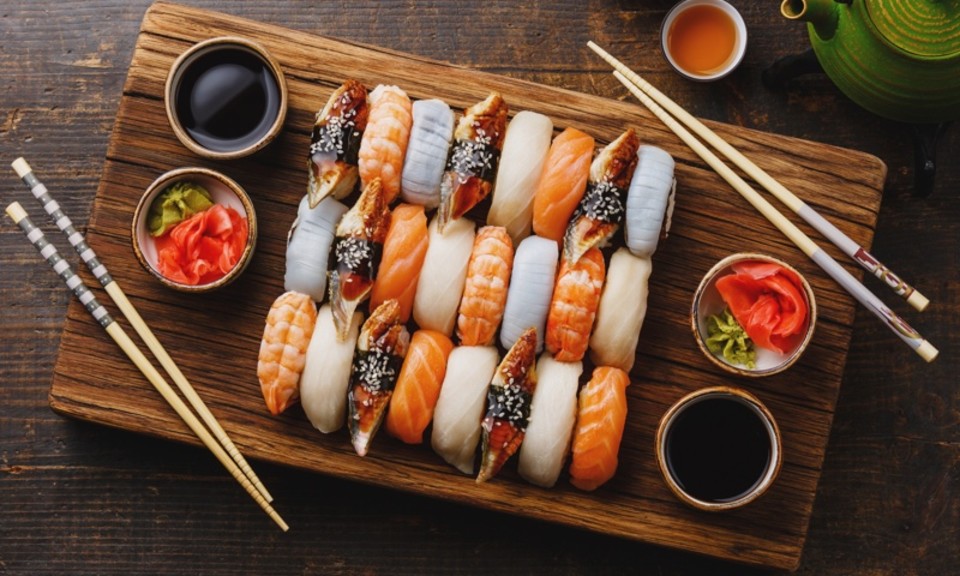 Pilar
Pink Nori has never let me down. They have great, fresh sushi, their teriyaki is pretty delicious, and they offer one of my personal favorites: the duck fried rice (although you guys could throw in a little more duck). They also make a great spider roll and offer a pretty standard but still impressive lunch special; since most sushi places feel like they give you their bottom-of-the-barrel stuff for lunch specials, their food was a nice surprise in terms of quality and freshness. They are by far my go-to for sushi in Astoria nowadays! My two cents: Offer more dinner box options and varieties! My three cents: Keep being awesome!
zachery
One of the best sushi restaurants I've been to. I havesampled nearly 1/3rd of their menu and everything had been delicious. The bird's nest is simply phenomenal and the pink nori roll is fantastic. I tend to shy away from special rolls due to prices at other restaurants, but this place is an exception. The delivery is incredibly speedy and the food is always fresh. I would give it 6 stars if I could.
Anne
I ordered food last night and then fell asleep and didn't answer my door. Pink nori came to my house twice to deliver. Then after two attempts they gave up. After calling the next day the manager was so nice. Told me he would remake all the food from the night before and deliver it for dinner tonight!! So amazing!! Love this place!!
Samantha
I love Pink Nori! I used to live on 30th ave and was ecstatic when I found they still delivered to me once I moved to 46th St. Their sushi pizza is amazing, definitely worth a try, even for the weary. I tried a new roll this time around too! I've forgotten the name, but it had asparagus and sundried tomato in it! SOOO GOOD!
seryung
Its lunch special is soo good! It has 6pcs of california roll and the roll is full! their chicken kachu is very delicious. I order again and again from here. One thing i point out is delivery time. It takes bit of time.. you may wait pretty long time to get food. but it's worthy. You are recommended, Pink Nori!
Suthisangduen
Holy cow was this impressive. Came within the estimated time and was packed meticulously. The food itself. The presentation was beyond beautiful which was very surprising to me. I just didn't expect that at all. Wish I could share the photo I took! The quality of the fish was good, the rice was cooked perfectly and the rolls were wrapped tightly. Super impressed and will definitely be making Pink Nori my new go to.
Christina
Food is consistent, quality is consistent all of which taste great and why I keep coming back for more! I also love their shrimp tempura, crispy and fried just right, doesnt have that nasty reused oil taste that some other restaurants do. The fried items are always fresh tasting. Love the chicken katsu dinner and sushi deluxe dinner.

Delivery guys are polite and fast!
Martin
Everything was delicious. It was the first time I'd received a Seamless order with such beautiful attention and care given to the packaging and aesthetic presentation. The sushi was definitely fresh. Also, it arrived very quickly, which doesn't really matter to me but I figured I'd mention it. I usually don't review things but this was perfection and then some.
Jarrett
Sushi is my favorite food. I have ordered from EVERY sushi place in Astoria available on Seamless (there are 10) and Pink Nori is the best. The avocado is always creamy, the meat is NEVER fishy, and the crunch they put in the spicy tuna is legendary. Trust me. I never write reviews. It's incontestably the best sushi joint in Astoria, especially for its price.
Jessica
Pretty great asian food. The sushi has been very good - rice is well done for delivery. My husband loves having non-sushi options beyond just pork katsu. The chicken mango dish is his favorite. They make a mean scallion pancake and the menu is a bit more diverse than normal, and the food has a fresh, playful vibe. This is my go-to sushi delivery spot.
About us
Asian, Dinner, Japanese, Lunch, Lunch Specials, Noodles, Sushi
Today

Delivery: 12:00 PM - 10:00 PM

Takeout: 12:00 PM - 10:00 PM

Delivery

Monday:

12:00 PM - 10:00 PM

Tuesday:

12:00 PM - 10:00 PM

Wednesday:

12:00 PM - 10:00 PM

Thursday:

12:00 PM - 10:00 PM

Friday:

12:00 PM - 10:00 PM

Saturday:

12:00 PM - 10:00 PM

Sunday:

12:00 PM - 10:00 PM

Takeout

Monday:

12:00 PM - 10:00 PM

Tuesday:

12:00 PM - 10:00 PM

Wednesday:

12:00 PM - 10:00 PM

Thursday:

12:00 PM - 10:00 PM

Friday:

12:00 PM - 10:00 PM

Saturday:

12:00 PM - 10:00 PM

Sunday:

12:00 PM - 10:00 PM